As an expat in Malaysia, you may be looking for more ways to get around without having to rely on the not-so-convenient Grab all the time. If you are going to be in the country for a long time, getting your own vehicle may be the best option.
The next thing may be deciding whether you want to buy a new or used vehicle. Whatever your decision, here are a few online sites where you can search for new and used cars in Malaysia.
I bought a car. Now what?
After you've examined, tested and bought your preferred vehicle, you'll need to have it registered to your name. That is transfer ownership from the previous owner to yourself.
Some people prefer to use 'runners' for this entire process because it can be a hassle if you don't have the time. The runners are not free, though, and cost upwards of RM150.
If you do it yourself, it will cost you about an hour at a Puspakom centre (which you can do on a weekend) and about 90 minutes for the actual transfer at JPJ (weekdays only for foreigners) and insurance. That is a lunch break.
Step 1: You'll need to get an inspection report from Puspakom
Some car dealers will get this for you. If you're getting it yourself (for the experience), all you have to do is book a time slot online for your car to be examined.
You can see Puspakom inspection centres near you here and book a convenient time here. You'll need to create an account and enter the details of your car including the plate number, name of the previous owner, passport number etc. Straightforward stuff.
It cost RM35.30 for a transfer of ownership inspection for a private, salon car. Prices are in that range (between RM20 and RM90) depending on the inspection type and your type of car (commercial, van, lorry etc).
Step 2: Go for the inspection
You'll need to bring all the documents requested on the Puspakom website. This includes your passport and the Sijil Pemilikan Kenderaan (vehicle ownership certificate – VOC) which you should get with your purchased vehicle.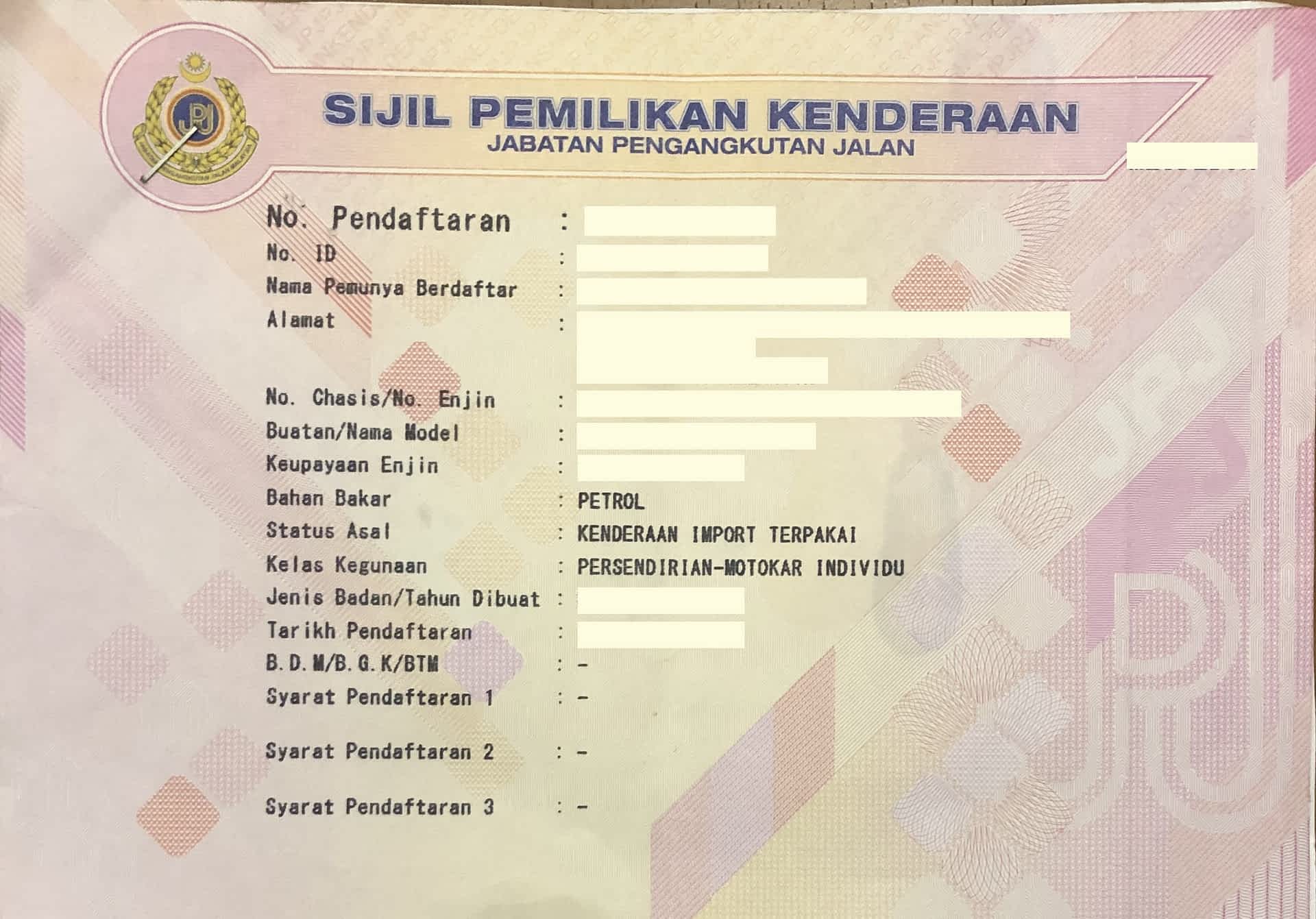 If your selected centre is not crowded, then you should be in and out in about or less than 90 minutes. The centres are also open as early as 8.00am if you want to be in and out before your day starts.
You just park your vehicle in the line up of vehicles waiting to be inspected. The inspectors usually take on a few cars at a time, so you'll need to just move the car after each stage of the inspection.
NOTE: If the car has a tint, take it off. Whatever the level of tint, it is safer to take it off, pass the inspection and get a new one rather than fail the inspection and have to go start from the beginning with the booking.
If your car passed the inspection, you'll get a B5 form (for vehicle ownership transfer), a computer-generated inspection report that says "LULUS – passed" indicating that your car passed its inspection. "GAGAL" means that you need to go do it again.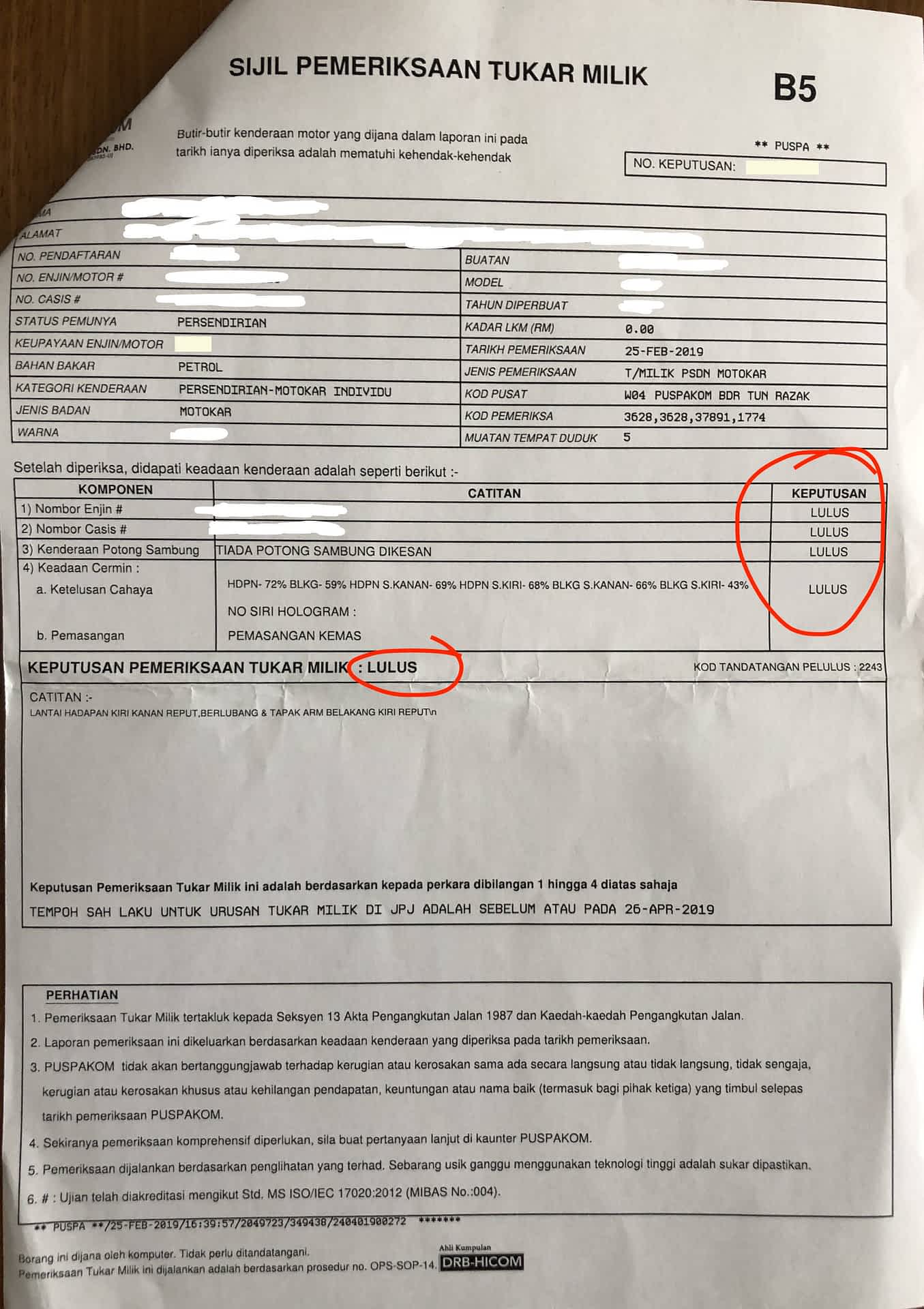 Step 3: Head to JPJ
The Department of Road Transport (or Jabatan Pengangkutan Jalan – JPJ) office is next. Expats and foreigners must go to a major JPJ branch for transfer of ownership and not a satellite (UTC) branch. Of course, you'll need the inspection results from Puspakom (B5), your VOC, passport and your driver's license.
Some expats have said that they were not asked for their driver's license but we were. You know how these things go. So, if you have one (which you should, otherwise, like…?), take it along. You don't need to bring the car along. Helpful in cases where the car road tax has expired. You can get the road tax at the JPJ office.
Total payment at JPJ was RM763.80. That includes RM200 (expat price as the lady indicated it is cheaper for Malaysians) for getting a new VOC in your name and RM563.80 for a six-month road tax for a 260cc salon vehicle (you can get an estimate of your road tax here).
The process is straightforward, again. Inform the counter that you're there for a change of ownership, get a ticket number, wait for your number, pay the RM200 and get your VOC.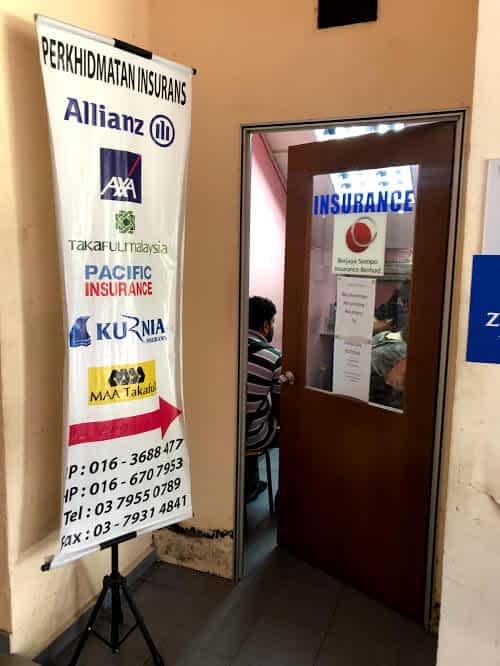 Most JPJ offices have car insurance vendors around. Find one and negotiate if necessary, pay for the insurance (based on the cost of the car, age and type of car). You'll have to pay your insurance every year.
By the time you leave the JPJ office, you should have a new VOC, car insurance and a road tax sticker that you should stick on the car windshield. After that, your car is ready to be on the road.